ok, here are the instructions I put together for this 5-petal flower. I am a very wordy person so it seems really long and hard. It is not hard at all to make this and once you do the first one, it will only take minutes to make the second. Feel free to ask me questions, I am the worlds worse when explaining how to do something. So I am apologizing up front if it is hard to understand.
To begin gather your supplies: Scissors, thread/floss, fabric-tac,
12 1/2 RW length of ribbon ( width of ribbon X 12 1/2= RW)
I am using 7/8 grosgrain ribbon which would calculate to about 11" inches long
1. Seal both ends of ribbon.
2. Fold your ribbon into 5 sections at about 2 - 2 1/2 RW so that it will help you to determine your petal width while stitching. (FYI: my experience in making the RW bigger makes the petals look like one big ruffle so that is why I say 2- 2 1/2 RW.) This is the pattern you will be following:
3. Start your stitch at 1/8" from the end and complete your stitch an 1/8" from other end. Use a strong thread or floss. And the stitches need to be about 1/2", not small ones, because you will be pulling the thread to bring your petals together. Round your corners. And stitch past the edges (or it will be hard to gather, it will logjam). Look at example :
I usually start gathering the petals once I have stitched about two so that it would be easier to gather when using grosgrain, but if you complete the pattern to the end you just have to work the ribbon gathering down to the end.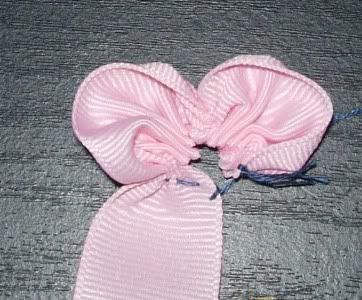 4. Once you have pulled the thread and gathered all petals together backstitch the end and knot the thread. DO NOT CUT YOUR THREAD.
5. To finish: Just put your needle through your very first knot. Pull tight closing the the petals together. Hold together as you backstitch and knot again. Now you can cut your thread. (Depending on thickness of ribbon also determines the middle whole size. I somtimes sew the center in closer together with spontaneous stitches across from each other) You also decide whether you want your petals facing up or down.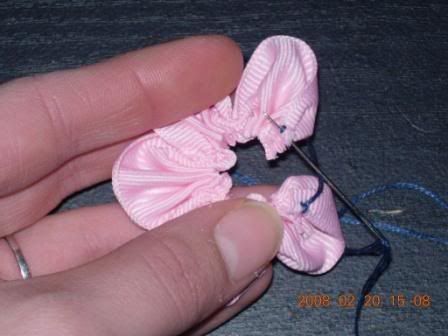 For the Center & Baby Rossette.
1. Stitch according to pattern. Pull thread and end with a backstitch and knot. Remember not to cut thread.
I used a 4" piece of 3/8" grosgrain ribbon. I only stitched about 3 ¼" and left a large tail because it is easier for me to handle. (not pictured, only the pattern to use is pictured) Don't close the rosette together just yet.
2. Then get about 6-8" of yellow 3/8 ribbon and knot like you would for a center and then make another knot ontop of the first knot. Hold the ribbon tails together from knot and place in the center of the rosette. Then backstitch and knot your rosette closed with the yellow knot in the center.
3. Cut thread and remaining rosette tail. Do not cut your yellow center knot tails.
5-Petal Flower & Rosette:
1. Take your 5-petal flower and I put a little fabric tac around the center edge. I then took the rosette with knotted center and placed it on top of the flower with the center knot tails through the center. I placed a piece of small ribbon across the back for added support of the center.